Heterópteros aquáticos e semiaquáticos no sudoeste amazônico e o seu papel no biomonitoramento aquático
Palavras-chave:
Diversidade, Amazônia, Insetos Aquáticos, Heteroptera
Resumo
Os ambientes aquáticos sofrem fortes pressões provocadas pelo aumento das atividades antrópicas oriunda de processos tais como urbanização, mudanças do uso do solo, agricultura, pecuária e uso de agrotóxicos. Na região Neotropical esse problema tem sido mais preocupante, pois ela concentra muitas espécies endêmicas e raras. Essa pesquisa é resultado de um levantamento bibliográfico nas bases de dados ScienceDirect, Scopus, Scielo e BioOne para o período entre 2001 e 2021, tendo sido utilizados apenas artigos científicos. Toda bibliografia encontrada foi analisada quanto à existência de conteúdos e informações sobre o grupo taxonômico no Brasil, ecologia e biomonitoramento. No Brasil, são descritas 243 espécies de Gerromorpha, 10 de Leptodomorpha e 311 de Nepomorpha. A análise mostrou que nos últimos vinte anos foram registradas 116 espécies de Heteroptera distribuídas em todo país, o que representa 20,09% aproximadamente do total de espécies descritas no Brasil. A infraordem Gerromorpha possui maior quantidade de espécies sensíveis a impactos ambientais, enquanto a infraordem Nepomorpha parece mais distante de um padrão de resposta aos impactos. O uso de níveis taxonômicos mais altos (família e infraordem) atende às necessidades de monitoramento ambiental e bioavaliação, desde que sejam previamente testadas em regiões onde não há estudos previamente realizados e que aceitem conclusões mais grosseiras. O leste amazônico necessita urgentemente de pesquisa com Heteroptera para reduzir as lacunas na região Neotropical.
Referências
Cunha EJ, De Assis Montag LF, Juen L. Oil palm crops effects on environmental integrity of Amazonian streams and Heteropteran (Hemiptera) species diversity. Ecol Indic. 2015;52:422–9. DOI: https://doi.org/10.1016/j.ecolind.2014.12.024
Juen L, Cunha EJ, Carvalho FG, Ferreira MC, Begot TO, Andrade AL, et al. Effects of Oil Palm Plantations on the Habitat Structure and Biota of Streams in Eastern Amazon. Appl Enviromental Res [Internet]. 2015;13(1):53–65. Available from: https://www.scopus.com/inward/record.uri?eid=2-s2.0-84995705667&doi=10.1002%2Frra.3050&partnerID=40&md5=7b2e13066af0d6e74f0e738fbdfea9f4
Lima DVM, Plese LP de M, Silva IHL da. Effects of land use on the community of benthic Macroinvertebrates in streams of the Iquiri River Basin (ACRE, BRAZIL). South Am J Basic Educ Tech Technol. 2020;7(2):160–75.
Brasil LS, Luiza-Andrade A, Calvão LB, Dias-Silva K, Faria APJ, Shimano Y, et al. Aquatic insects and their environmental predictors: a scientometric study focused on environmental monitoring in lotic environmental. Environ Monit Assess [Internet]. 2020 Mar 21;192(3):194. Available from: https://www.scopus.com/inward/record.uri?eid=2-s2.0-85079775219&doi=10.1007%2Fs10661-020-8147-z&partnerID=40&md5=a75334eba2e8bac74109997da3db49fe
Dias-Silva K, Brasil LS, Juen L, Cabette HSR, Costa CC, Freitas P V, et al. Influence of Local Variables and Landscape Metrics on Gerromorpha (Insecta: Heteroptera) Assemblages in Savanna Streams, Brazil. Neotrop Entomol. 2020;49:191–202. DOI: https://doi.org/10.1007/s13744-019-00748-8
Brasil LS, de Lima EL, Spigoloni ZA, Ribeiro-Brasil DRG, Juen L. The habitat integrity index and aquatic insect communities in tropical streams: A meta-analysis. Ecol Indic. 2020;116:106495. DOI: https://doi.org/10.1016/j.ecolind.2020.106495
Lima DVM, Souza LB de, Capistrano PC da C, Plese LP de M, Vieira LJS. Uso de larvas de Chironomidae (Diptera) na análise da integridade ecológica de lagos urbanos no oeste amazônico. Biota Amaz. 2019;9(3):41–5.
Rodrigues JMS, Magalhães OM, Joaquim Júnior EA, Ribeiro JRI, Moreira FFF. Semiaquatic bugs (Hemiptera, heteroptera, gerromorpha) from Rio Grande do Sul, Southern Brazil. Check List [Internet]. 2021;17(5):1323–43. Available from: https://www.scopus.com/inward/record.uri?eid=2-s2.0-85116309439&doi=10.15560%2F17.5.1323&partnerID=40&md5=0c0da513780770423c0ac83311913858
Roque FDO, Lima DVM, Siqueira T, Vieira LJS, Stefanes M, Trivinho-Strixino S. Concordance between macroinvertebrate communities and the typological classification of white and clear-water streams in Western Brazilian Amazonia. Biota Neotrop. 2012;12(2):83–92. DOI: https://doi.org/10.1590/S1676-06032012000200009
Vieira TB, Dias-Silva K, Pacifico ES. Effects of Riparian Vegetation Integrity on Fish and Heteroptera Communities. Appl Ecol Environ Res. 2015;13(1):53–65. DOI: https://doi.org/10.15666/aeer/1301_053065
Castro DMP de, Dolédec S, Callisto M. Land cover disturbance homogenizes aquatic insect functional structure in neotropical savanna streams. Ecol Indic. 2018 Jan 1;84:573–82. DOI: https://doi.org/10.1016/j.ecolind.2017.09.030
Cortezzi SS, Bispo P da C, Paciencia G de P, Leite RC. Influência da ação antrópica sobre a fauna de macroinvertebrados aquáticos em riachos de uma região de cerrado do sudoeste do Estado de São Paulo. Iheringia Série Zool. 2009 Jul 30;99(1):36–43. DOI: https://doi.org/10.1590/S0073-47212009000100005
Wang B, Liu D, Liu S, Zhang Y, Lu D, Wang L. Impacts of urbanization on stream habitats and macroinvertebrate communities in the tributaries of Qiangtang River, China. Hydrobiologia. 2012 Jan;680(1):39–51. DOI: https://doi.org/10.1007/s10750-011-0899-6
Giehl NF da S, Cabette HSR, Dias-Silva K, Juen L, Moreira FFF, de Castro LA, et al. Variation in the diversity of semiaquatic bugs (Insecta: Heteroptera: Gerromorpha) in altered and preserved veredas. Hydrobiologia. 2020;847:3497–510. DOI: https://doi.org/10.1007/s10750-020-04364-1
Giehl NFS, Fonseca PVB, Dias-Silva K, Brasil LS, Cabette HSR. Efeito de fatores abióticos sobre Brachymetra albinervis albinervis (Heteroptera: Gerridae). Iheringia Série Zool [Internet]. 2015 Dec;105(4):411–5. Available from: https://www.scopus.com/inward/record.uri?eid=2-s2.0-84960393365&doi=10.1590%2F1678-476620151054411415&partnerID=40&md5=d863578e4f2feeb7634a46ec8d5144ca
Lima DVM, Almeida M de FT de, Vicente JX. Efeitos Da Sazonalidade Sobre a Composição E Riqueza De Larvas De Odonatas Em Lagos Urbanos, Rio Branco (Ac), Brasil. Multidiscip Sci Reports. 2021;1(1):1–16. DOI: https://doi.org/10.54038/ms.v1i1.5
Rodrigues HDD, Melo AL de, Ferreira-Keppler RL. New records of Gerromorpha (Insecta: Hemiptera: Heteroptera) from Brazil. Check List. 2012;8(5):908–913. DOI: https://doi.org/10.15560/8.5.908
Hiwat H. Triatominae species of suriname (Heteroptera: Reduviidae) and their role as vectors of chagas disease. Mem Inst Oswaldo Cruz. 2014;109(4):452–8. DOI: https://doi.org/10.1590/0074-0276130408
Hynes HBN. The Ecology of Stream Insects. Annu Rev Entomol. 1970;15(1):25–42. DOI: https://doi.org/10.1146/annurev.en.15.010170.000325
Pereira DL V, De Melo AL. Aquatic and semiaquatic Heteroptera (Insecta) from Pitinga, Amazonas, Brazil. Acta Agric Univ Jiangxiensis [Internet]. 2007;37(4):643–8. Available from: https://www.scopus.com/inward/record.uri?eid=2-s2.0-40949148564&doi=10.1590%2Fs0044-59672007000400021&partnerID=40&md5=545b08fc60fa5ecccc625712418a65ac
Dias-Silva K, S.R.Cabette H, Juen L, Jr. PDM. The influence of habitat integrity and physical-chemical water variables on the structure of aquatic and semi-aquatic Heteroptera. Zoologia. 2010;27(6):918–30. DOI: https://doi.org/10.1590/S1984-46702010000600013
Dias-Silva K, Brasil LS, Veloso GKO, Cabette HSR, Juen L. Land use change causes environmental homogeneity and low beta-diversity in Heteroptera of streams. Ann Limnol - Int J Limnol. 2020;56(9):1–9. DOI: https://doi.org/10.1051/limn/2020007
Guterres APM, Cunha EJ, Juen L. Correction to: Tolerant semiaquatic bugs species (Heteroptera: Gerromorpha) are associated to pasture and conventional logging in the Eastern Amazon. J Insect Conserv. 2021;25(4):569. DOI: https://doi.org/10.1007/s10841-021-00328-5
Soares DM, Borges LR, da Silva MFF, Luche LD. Effect of substrates of native and exotic plant species on the initial period of colonization of benthic macroinvertebrates in the Cerrado biome. Community Ecol [Internet]. 2021 Apr 4;22(1):127–34. Available from: https://www.scopus.com/inward/record.uri?eid=2-s2.0-85098799668&doi=10.1007%2Fs42974-020-00032-5&partnerID=40&md5=8f1786d2d6ed85c1cb163e858f700c6b
Marques NCS, Jankowski KJ, Macedo MN, Juen L, Luiza-Andrade A, Deegan LA. Riparian forests buffer the negative effects of cropland on macroinvertebrate diversity in lowland Amazonian streams. Hydrobiologia [Internet]. 2021;848(15):3503–20. Available from: https://www.scopus.com/inward/record.uri?eid=2-s2.0-85105498516&doi=10.1007%2Fs10750-021-04604-y&partnerID=40&md5=8c6fb82e060e098e4923f79dd08e2c48
Nogueira DS, Calvão LB, de Assis Montag LF, Juen L, De Marco P. Little effects of reduced-impact logging on insect communities in eastern Amazonia. Environ Monit Assess. 2016 Jul 1;188(7). DOI: https://doi.org/10.1007/s10661-016-5431-z
Cunha EJ, Guterres APM, Godoy BS, Juen L. Wing dimorphism in semiaquatic bugs (Hemiptera, Heteroptera, Gerromorpha) as a tool for monitoring streams altered by oil palm plantation in the Amazon. Ecol Indic [Internet]. 2020;117:1–11. Available from: https://doi.org/10.1016/j.ecolind.2020.106707 DOI: https://doi.org/10.1016/j.ecolind.2020.106707
COPPETEC. Catálogo taxonômico da fauna do Brasil [Internet]. 2022. Available from: http://fauna.jbrj.gov.br/fauna/listaBrasil/ConsultaPublicaUC/ConsultaPublicaUC.do
Barbosa JF, Giehl NF da S. New distribution records of the genus Martarega White, 1879 (Hemiptera: Heteroptera: Notonectidae) in eastern Mato Grosso State, Brazil. Check List J species List Distrib. 2014;10(5):1152–5. DOI: https://doi.org/10.15560/10.5.1152
Floriano CFB, Oliveira IADV, Melo AL de. New records of Gerromorpha (Insecta: Hemiptera: Heteroptera) from the Neotropical Region. Trans Am Entomol Soc. 2017;143(1):103–17. DOI: https://doi.org/10.3157/061.143.0202
Franco CL, Lima LRC, Rodrigues JMS, de Azevêdo CAS, Moreira FFF. New records of gerromorpha (Insecta, hemiptera, heteroptera) from Piauí State, Northeastern Brazil. Check List [Internet]. 2020;16(6):1755–63. Available from: https://www.scopus.com/inward/record.uri?eid=2-s2.0-85099943501&doi=10.15560%2F16.6.1755&partnerID=40&md5=01fe56cd5844394ff87ccd27b3e25043
Magalhães OM, Nery L, Moller H, Pavarini R, Bertini G, Moreira FFF. Semiaquatic bugs (Insecta, Heteroptera, Gerromorpha) from Vale do Ribeira, São Paulo state, Brazil. Check List J Biodivers data. 2020;16(2):349–59. DOI: https://doi.org/10.15560/16.2.349
Magalhães OM, Cordeiro I da RS, Bichuette ME, Moreira FFF. New records of cave-inhabiting gerromorpha (Insecta, hemiptera, heteroptera) from brazil. Check List. 2021;17(4):1137–46. DOI: https://doi.org/10.15560/17.4.1137
Floriano CFB, Oliveira IADV, de Melo AL. New records and checklist of aquatic and semi-aquatic heteroptera (insecta: Hemiptera: Gerromorpha and nepomorpha) from the Southern region of Mato Grosso do Sul, Brazil. Biota Neotrop [Internet]. 2013;13(1):210–9. Available from: https://www.scopus.com/inward/record.uri?eid=2-s2.0-84877787165&doi=10.1590%2FS1676-06032013000100022&partnerID=40&md5=2c9531f1f7a2d19727f9700c6dc7d5d0
Santos SED, Rodrigues JMS, Couceiro SRM, Moreira FFF. Gerromorpha (Hemiptera: Heteroptera) from the Metropolitan Region of Santarém, Brazil, including three new species of Microvelia Westwood, 1834 (Veliidae: Microveliinae). Biodivers Data J [Internet]. 2021;9:1–75. Available from: https://www.scopus.com/inward/record.uri?eid=2-s2.0-85115630022&doi=10.3897%2FBDJ.9.e68567&partnerID=40&md5=8d8760de4a7a763223e56c11b45493b6
De Souza MAA, De Melo AL, Vianna GJC. Heterópteros aquáticos oriundos do Município de Mariana, MG. Neotrop Entomol. 2006;35(6):803–10. DOI: https://doi.org/10.1590/S1519-566X2006000600013
Dias-Silva K, Moreira FFF, Giehl NFDS, Nóbrega CC, Cabette HSR. Gerromorpha (Hemiptera: Heteroptera) of eastern Mato Grosso State, Brazil: checklist, new records, and species distribution modeling. Vol. 3736, Zootaxa. 2013. p. 201–35. DOI: https://doi.org/10.11646/zootaxa.3736.3.1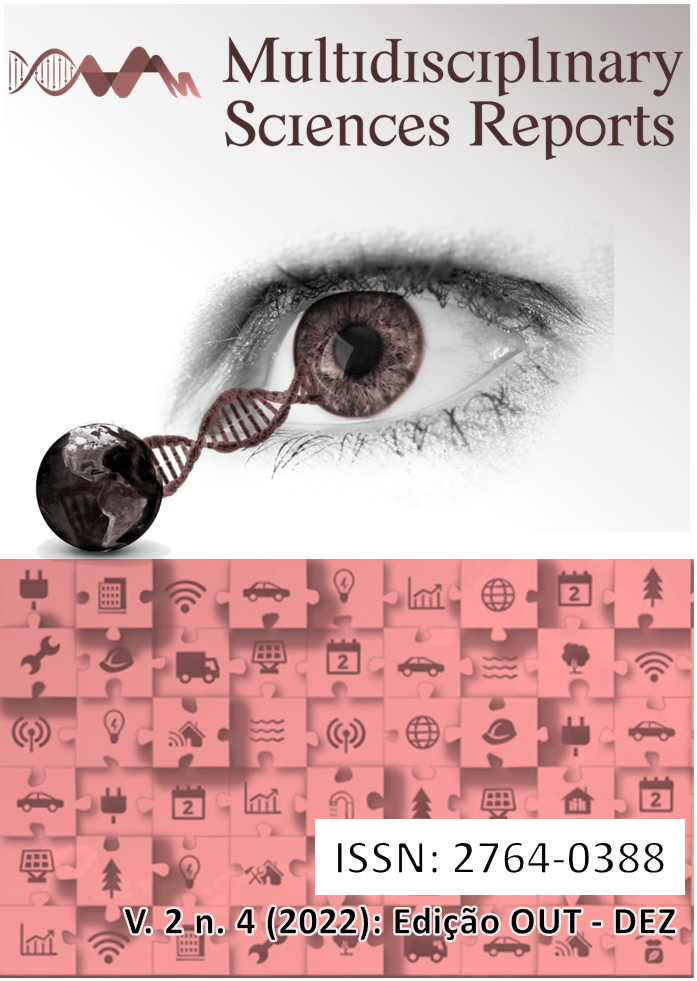 Downloads
Como Citar
Viana, K. T. A. K., Juno Soares Vieira, L. ., Lima, D. V. M. ., & Menezes, D. S. (2022). Heterópteros aquáticos e semiaquáticos no sudoeste amazônico e o seu papel no biomonitoramento aquático. Multidisciplinary Sciences Reports, 2(4), 1–27. https://doi.org/10.54038/ms.v2i4.29
Seção
II - CIÊNCIAS BIOLÓGICAS